Do catalogs still work? We tried answering this question in a more recent article where we analyzed the impact of e-catalogs on online engagement and sale conversion. A case study that involved 1000 of our premium users who publish online catalogs on a regular basis, using Flipsnack as a medium to reach their customers.
But we wanted to go more in-depth with this analysis. So we got curious to see how the big brands like Bed Bath & Beyond or Walmart are using catalogs in their marketing mix, to analyze if catalogs are still a useful promotional tool or not.
Today, we are taking a closer look at what the big players are doing. This is our case study about how the top 100 US brands use digital catalogs in 2019.
Why publish a catalog?
Are people still paying attention to catalogs these days? It seems like the answer to this question is yes, taking into consideration that big retailers still use catalogs to drive in-store traffic.
Take for instance Amazon. Everyone was surprised when in 2018, the giant e-commerce player decided to fill in the gap for Toys R Us and went all-in by printing a holiday toy catalog.
Did it make sense to do this? Totally!
At the end of the day, it's all based on data. Amazon seems to be the top of mind in 4 big product categories when it comes to holiday shopping: toys, electronics, jewelry, and sports apparel. So yes. Running a print catalog campaign before the 2018 holiday season was such a smart move for the e-commerce player. Especially since they incorporated a bit of technology into it, including QR codes for some of its products.
Printing a holiday catalog was a big win for two main reasons: the first one being the amount of press Amazon received for such an initiative. The e-commerce player got all the attention!
And the second one is that they used this direct mail campaign for driving web traffic. How? Simple.
Let's dig a little deeper. Amazon didn't even add the price for the toys advertised in that catalog. It didn't even make sense to do so, because, as we all know, prices on Amazon tend to fluctuate. Not only but the main reason for publishing such a catalog is simple. To drive web traffic and make millennials pay attention to what you have to say. Believe it or not, millennials may be paying more attention to catalogs than previous generations. And brands go the extra mile to make effective and relevant catalogs.
But this takes us back to our case study.
How top 100 US brands use catalogs in 2019
The first aspect we analyzed was the main reason for publishing a catalog. And we kept it simple. There should be two main reasons why a brand will want to invest time, effort and money in creating a catalog, be it online or printed. These two main reasons are: for presentation and for sale purposes. In the end, the main reason will be to sell more of course, but here, we wanted to go more in-depth into the main reason for publishing a catalog as a medium to move the customer one step forward in the acquisition funnel.
Of course, when analyzing the results, the specifics of certain markets should be taken into consideration.Let's start by analyzing domestic merchandise retail stores. Brands like CVS or Bed Bath and Beyond publish weekly or monthly circulars with the sole purpose of presenting their offers and getting in-store traffic. A by the book marketing strategy that works wonders still. A recent Nielsen study shows that the old-fashioned way of sending out printed circulars is a retailer's best bet, at least for now.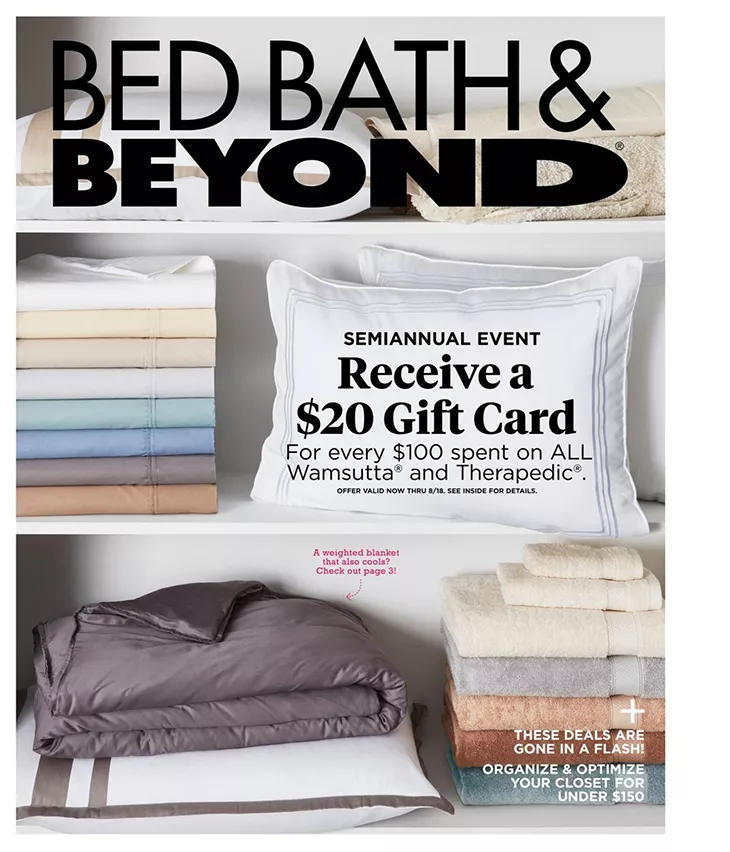 It's exactly what IKEA is still doing, the old-school way. Using magazine-like-catalogs, the so called magalogs to tell the story of their products and making the reader feel like they're invited in someone else's house. A perfect blend between magazine editorial and traditional product catalog, IKEA is using taking catalogs to whole new levels. Printing yearly catalogs and distributing them by mail and in-stores is still a winning strategy for the furniture giant.
Believe it or not, this states, once again that print ain't dead! Brands who find success in using physical marketing like print catalogs see this type of content more as a magazine that offers the full experience, rather than an index of products. And IKEA is the perfect example of that.
Frequency of publishing catalogs
The first point of this case study was to see the main reason why a brand would want to publish a catalog in 2019. Next, we wanted to see how often this happens. And when analyzing the end data, we saw some correlations between the type of business and the frequency of publishing catalogs.
Retailers such as Target or Walmart will publish weekly ads with the intent of bringing people in-store for grabbing the deals being advertised in the circular. A marketing practice that's known to be working, even in 2019.
And so, these weekly circulars will be no more than 10 or 20 pages long, often including coupons to help measure the effectiveness of the ad.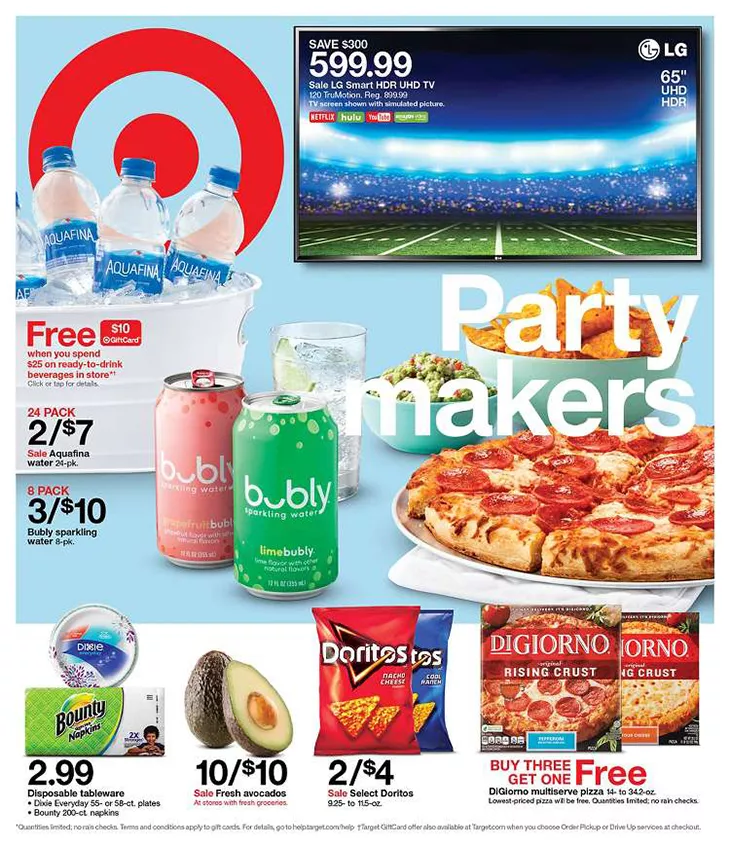 While for other brands like Home Depot, it makes sense to publish a big catalog less frequently, once every 3 months. And, in some regions, they will also publish weekly circulars where it will simply advertise seasonal products. Two different strategies that seem to be working well together.
Using customer behavior to target specific target audiences alongside with meticulous attention to details had helped Home Depot in positioning itself as a higher-end specialty store.
Publishing high quality catalogs that will enchant the user makes for a great reading experience. Not to mention the shopping links included. A tremendous help that makes for a more smooth and engaging shopping experience.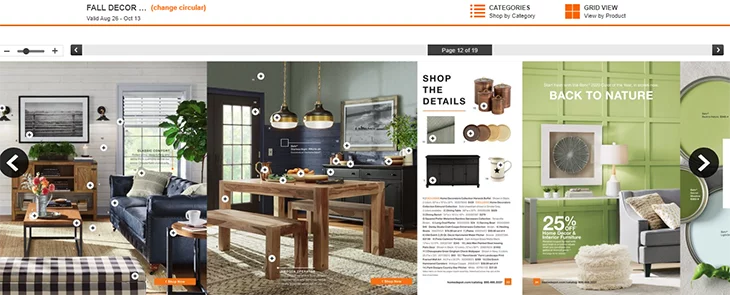 As with anything, retail has gone through a massive digital transformation within the past decade. And because grabbing the attention is harder than ever before, brands need to step up their e-commerce game, in order to stay competitive. This is exactly why, brands like Home Depot or Office Depot integrated shopping links in their online catalogs. Besides a more complete shopping experience, this offers brands useful insights about shopping patterns and behaviors.
B2B product catalogs
Analyzing the frequency of which these brands choose to publish catalogs, we came across this really big, bold presentation catalogs. Brands such as WincoFOODS publish a yearly B2B catalog that's sort of a bible of their product offerings. A bible because, same as the IKEA catalog, it takes a lot of time to put together a catalog that's over 380 pages long.
Usually, B2B catalogs are different from typical product catalogs, because they address a different audience. They don't focus that much on storytelling and making the experience smoother and more entertaining, but rather on giving specific details about products being presented. A sort of old school product catalog.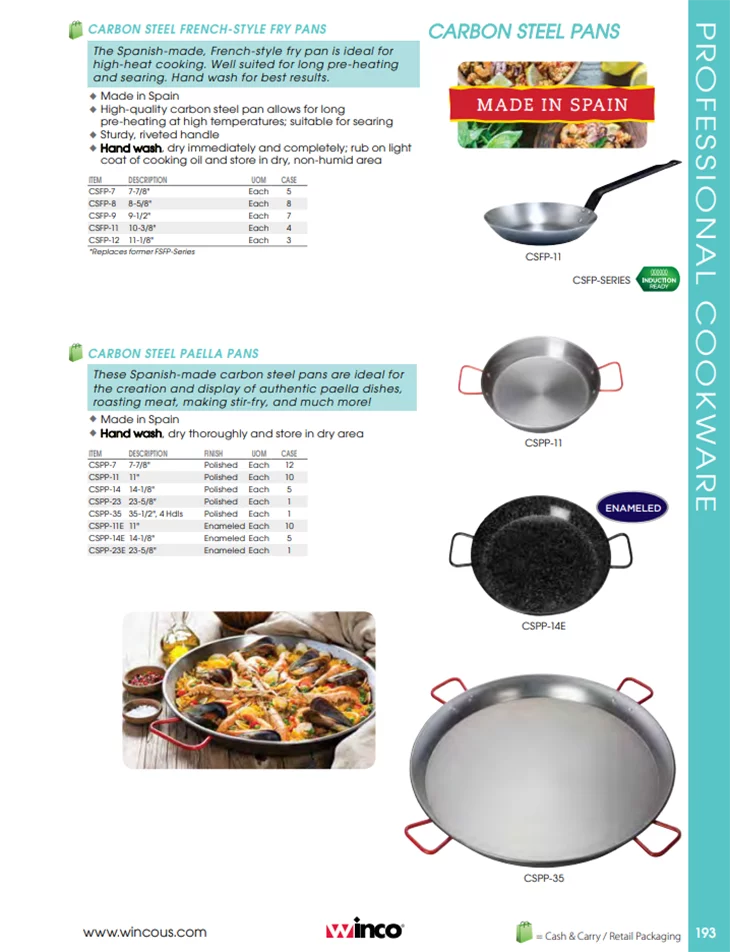 Traditional catalogs have always been an efficient sales tool. But, with online shopping, retailers who use product links have taken catalogs to a whole new level.
And so, shopping links was a big part of our survey. We were interested to see what percentage of this 100 US top brands list use online catalogs as e-commerce tool.
One of our recent articles talked about how our premium users design and use online catalogs in 2019. When it came to using shopping links in their catalogs, more than 68% responded affirmatively. And so, we got curious to see if this is somewhat similar when talking about other retailers.
It seems like more than 33% use shopping links in their online catalogs. Again, this number is correlated with the reason for publishing. Because brands who use online catalogs as e-commerce instruments are expecting to sell more by doing this. But this is not everyone's strategy. Still, a big part of these brands only use catalogs for presentation purposes only.
Out of the 100 brands that use shopping links directly in their online catalogs, mostly publish weekly ads circulars. Some of them with the intention of selling directly and others simply for adding a more detailed product description, that wouldn't otherwise fit on the page.
From simple printed weekly circulars that customers would receive in the mail every week, the classic weekly circular got an upgrade when retailers started using shopping links to maximize sales. Printed weekly circulars are still an efficient marketing strategy for supermarkets. Especially when retailers use QR codes to link the catalog to their website.
And by combining both efforts, printed and online, retailers got a winning strategy in bringing people in for their weekly online shop.
Approximately 70% of consumers who use e-circulars scroll through the entire ad. Very similar to the percentage of shoppers who read through the entire paper circular (87%).
Size matters
Since we talked so much about weekly ads and the big IKEA catalog, it only makes sense to determine the difference between the two types of publications. The perspective being the number of products displayed in a publication.
What we found out is that when it comes to weekly ads, people are interested in reading the entire leaflet, online or printed. And so, retailers pay careful attention to personalizing these deals as much as possible. Because catching the attention must be done within seconds, the number of products and the layout must be very well thought of.
Usually, when it comes to weekly circulars, the top retailers we analysed won't advertise more than tens of products.
This is why we talk about tens of products in a weekly leaflet, in comparison with thousands of product offerings in a catalog like IKEA's or like Winco's B2B yearly catalog. There is a strong correlation between the publication frequency and the number of products included in a catalog.
The power of imagery
Everybody knows that images are very powerful when talking about product catalogs. It's a total necessity to create a strong visual impact on the customer in the product business. And to put it bluntly, images always worth a thousand words and represent the best communication tool. Believe it or not, this is also demonstrated in our study.
Out of the 100 brands we analyzed, over 23% use at least 50% imagery in their catalogs. But wait, there are brands that focus even more on this strategy by having over 75% images in their publications.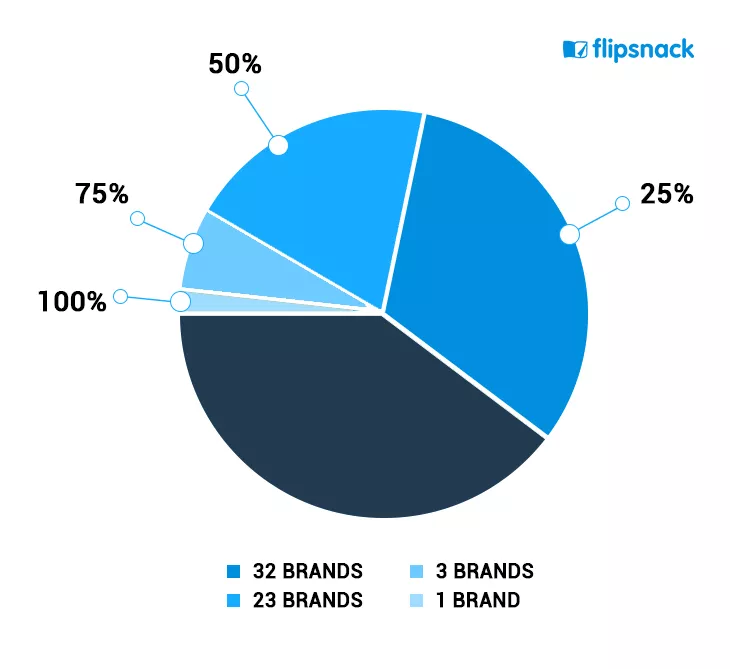 Product photos catch the attention and are the first thing shoppers see when they open a catalog. For instance, Bonobos – a men's clothing subsidiary of Walmart – intentionally limited the amount of descriptive text in their catalog. They think that it's best to skip unimportant details such as measurements and care instruction. After all, customers generally go online to look for this information. They have also conducted a study that focused on sales patterns. In one of their catalogs, they featured a male model wearing a colorful shirt and white jeans. Most of the customers ordered both items, so the brand decided to point out full-outfit shots and less text because apparently, images sell more than words.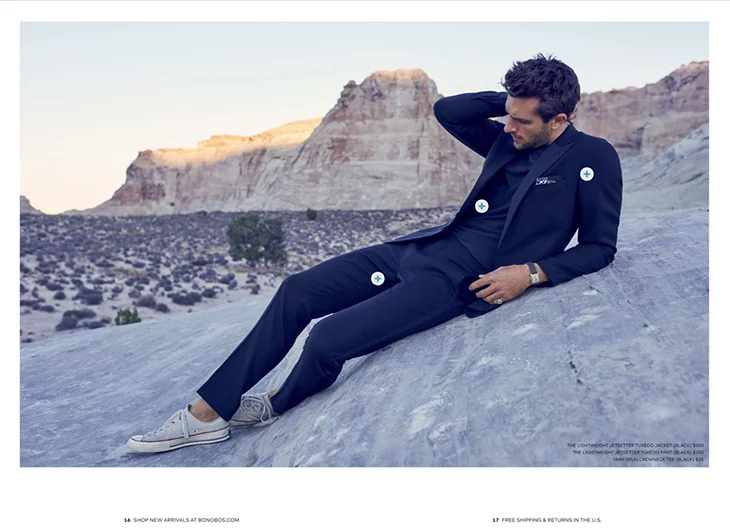 Same perception is applied to brands like Footlocker. They choose to only display images of people wearing their products, without any descriptions. It's like a slideshow catalog, neat and impressive.
They rely on the fact that product catalogs lack in the opportunity for clients to physically handle the products, so they must take advantage of the high-quality images and sensorial marketing. The products they have in-store have to be exactly as in the catalogs. They have to fill the gap by providing genuine information. You know what they say: the more excellent the product images, the more potential customers!
The power of written information
On the opposite side, we have brands like Verizon or Autozone that focus mainly on text and descriptive information. The percentage of imagery in their product catalogs is only 25% and the rest of 75% aims attention at written knowledge. This thing is totally understandable. Verizon is a telecommunication company and Autozone an automotive company that both concentrate more on giving product information than showing product images.
Being a part of the commerce field, it's important to know that a product description or information can make or break a potential sale. Consider them in-store salesperson that can either draw customers to buy your goods or push them away. A recent study tells us that more than 87% of the avid shoppers acknowledge product information as a crucial factor for deciding on a purchase. Take for instance Neiman Marcus, a shopping and retail company which considers that a good product information should always tell a story. The more engaging your product description, the more successful your brand storytelling will be!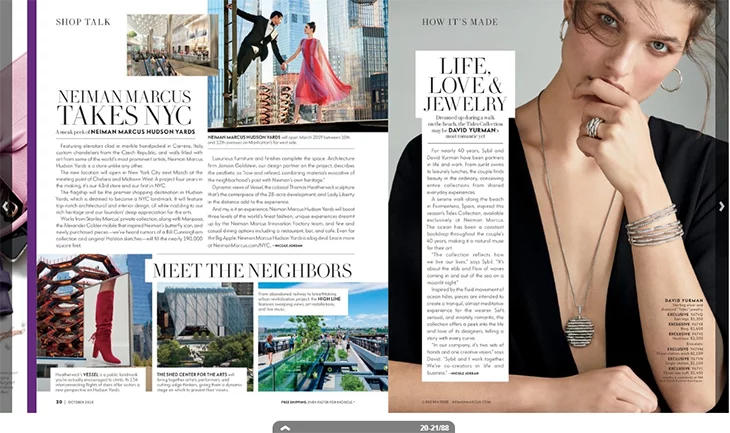 More than a printed catalog
One thing that we understood after we finished analyzing this study is the fact that most of the brands consider printed catalogs a high quality content marketing tool. Some of them go even deeper and make them their principal form of advertising.
Let's go back to IKEA for a minute. Everybody associates IKEA with affordable home goods. But did you know that they also use printed catalogs to facilitate your life, besides advertising their products? They not only help you design and decorate your home as beautiful and as fast as possible, but also offer you information about design for free. The catalogs often include interviews or pieces of advice with IKEA furniture or interior designers. Giving readers the opportunity to connect better with the products, the company and the people who work there. This type of editorials seem very catchy and interesting for the large public and increase IKEA's sales. Whoever said that good products altogether with personal opinions act as brand ambassadors were 100% right!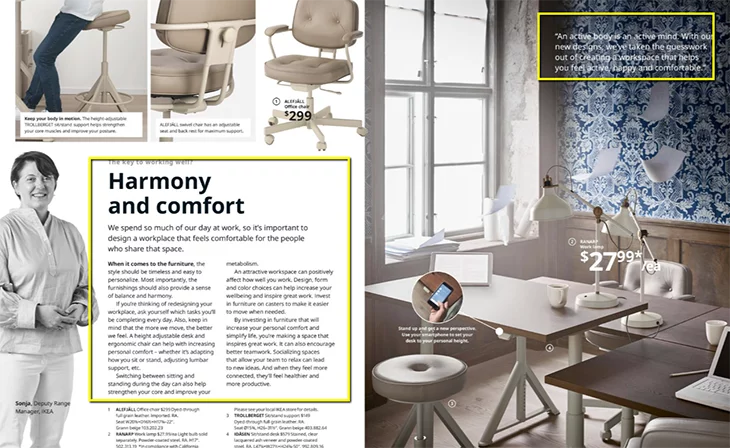 Let's go further to another popular brand, namely Williams Sonoma. In their printed catalogs they focus most on room styles and arrangements. But also tend to include high-touch personal stories and quality pictures. This is also a way of expressing brand personality, if you ask me. But what I consider most exciting and entertaining is the fact that Williams Sonoma decided to include recipes in their catalogs, next to the products they sell. If this ain't good marketing, then I don't know what it is!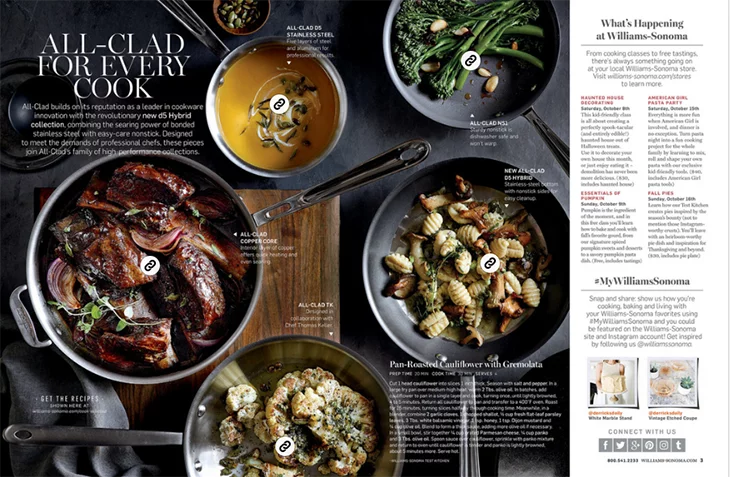 Anthropologie, another large American clothing retailer consider that product catalogs are in fact real-life journals. They are trying to advertise their clothes and accessories, of course, but the main focus is to inspire and influence customers in a good way. Marketing on point, I would say!
Conclusion
With this case study we really wanted to see if catalogs are still relevant for today's consumers. After analyzing the top 100 US brands, it became more clear that catalogs will never go out of fashion. Printed or online, people still enjoy to flip through catalogs and brands see a conversion rate that makes catalogs an important element of their marketing mix.